Datura
---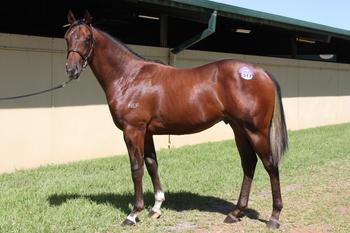 Sire: Easy Choice
Dam: Desert Gardens
Colour: Bay
Gender: Gelding
Age: 6 year old
Foaled: Oct 6th, 2013
Country: Australia
Silks: Gold, Black Seams, Black And White Checked Cap, Gold Pom Pom
Trainer's Name: Ryan Balfour
---
Career Record: 16-1-5-2
Prizemoney

$29,450.00

Wins

6.3 %

Place

43.8 %
---
Pedigree
DATURA (AUS)

Bay gelding
Foaled in 2013

---

| | | | |
| --- | --- | --- | --- |
| Sire | Redoute's Choice | Danehill | Danzig |
| EASY CHOICE (AUS) | | Shantha's Choice | Canny Lad |
| 2004 | Singles Bar | Rory's Jester | Crown Jester |
| | | Easy Date | Grand Chaudiere |
| Dam | Desert King | Danehill | Danzig |
| DESERT GARDENS (AUS) | | Sabaah | Nureyev |
| 2002 | Curzon Place | Marscay | Biscay |
| | | Kensington Gardens | Grosvenor |

---

EASY CHOICE (AUS) (Bay 2004-Stud 2009). Unraced. Brother to SW Not a Single Doubt (AJC Canonbury S., L). Three-quarter-brother to SW Come Hither (VRC Talindert S., L). Out of SP Singles Bar, a half-sister to SW Snippets. Sire of 21 rnrs, 14 wnrs, inc. Choice Princess, Bar Date, Ben Bader, Easy Best, Amaretto, Not Too Fussy, Way Too Easy, C'Mon Honey, She's Got Magic, Her Name is Rio, Bounce Trap Goal, Ferrero, Jet Zena, Sands Easy, etc.

1st dam

DESERT GARDENS, by Desert King. Winner at 1600m in Aust. Dam of seven foals, six to race, five winners, inc:-

Oamaru Rose (f. by Oamaru Force). 5 wins-1 at 2-at 1000m, A$121,860, MRC Sportingbet H., Le Pine Funerals H., MRC (Mornington) Orbit Fitness H., SAJC Windsor Estate Wines H., 3d MRC Bushnell Outdoor Products H., MVRC Chandler MacLeod H., 4th VRC Cap d'Antibes S., L.

Fairy Twins (g. by Oamaru Force). 2 wins at 1200m to 2016-17, HKJC Dongguan H., Jardine H., 2d HKJC Tai Tong H., Golden Jubilee Challenge Cup, Celosia H.

Mariposa Lily (f. by Oamaru Force). 3 wins at 1000m, 1200m in Aust.

Flying Frisbee (g. by Oamaru Force). 2 wins at 1000m, 1300m to 2017-18 in Aust.

Bay Zena (g. by Umatilla). Winner at 1400m in Aust.

Chiringuito (f. by Easy Choice). Placed at 2 in Aust.

2nd dam

CURZON PLACE, by Marscay. Unraced. Half-sister to BLACKFRIARS, LARROCHA (dam of ROCHA), MANTON, LIONS GATE, WATERFORD ROAD. Dam of 7 named foals, 6 to race, 5 winners, inc:-

Rockin' in Heaven. Winner at 1400m, 3d MVRC Browns Sawdust & Shavings H.

Angus Carolus. 4 wins from 1100m to 1600m in Aust.

Curzon Dancer. Winner at 1450m in Aust. Dam of-

The Big Dance. Winner at 2, A$193,850, Bendigo JC VOBIS Gold Rush 2YO S., 3d Bendigo JC Mittys Sprint H.

Colour Therapy. Winner at 1600m in Aust. Dam of-

Margarita Rush. 4 wins from 1000m to 2200m to 2016-17, 2d ATC McGrath Estate Agents H.

3rd dam

Kensington Gardens, by Grosvenor. 4 wins-1 at 2-from 1200m to 2100m, A$151,055, AJC Ladysan Welter H., Rego H., Belmura Lad H., 2d STC Storm Queen S., Gr.2, AJC Services' Memorial Cup, L, 3d AJC Oaks, Gr.1, AJC Burke & Wills H., Tooheys Draught H., STC Tooheys Draught Welter H. Half-sister to Kremlin. Dam of 9 foals, 6 to race, all winners, inc:-

BLACKFRIARS (Danehill). Third on The 1999-2000 Australasian 3YO Classification (2100m+). 4 wins from 1450m to 2500m, A$809,950, Victoria Derby, Gr.1, VATC Norman Robinson S., Gr.3, Boer War Centenary H., VRC Flag Choice Hotels H., 2d VATC Yallourn Energy 2YO P. Sire.

LARROCHA (Danehill). 2 wins at 1300m, 2500m, A$240,540, South Australian Oaks, Gr.1, SAJC Schweppes H., 2d SAJC Carlton Draught S., Gr.3, Veuve Clicquot S., L, MRC March 2YO Fillies H., 4th MVRC Sunline S., Gr.2. Dam of-

ROCHA (Encosta de Lago). Winner at 2000m, A$238,150, VRC Wakeful S., Gr.2, 2d AJC Alm H., MVRC Essendon Mazda H., 3d AJC Surround S., Gr.2. Producer.

MANTON (Danehill). 2 wins at 1200m, 2000m, A$217,225, STC Tulloch S., Gr.2, AJC Kookaburra H., 2d MVRC AAMI Vase, Gr.2, Newcastle JC Spring S., Gr.3, 3d NSW Tatt's RC Ming Dynasty H., L. Sire.

WATERFORD ROAD (Danehill). 9 wins from 1200m to 2000m, A$273,515, Werribee Cup, L, Kilmore Cup, L, QTC Exhibition H., L, VRC Sandringham H., VATC Ungar H., VRC Don Scott H., 2d VATC Naturalism S., L, Heatherlie H., L, VRC Nivea Visage H., Liz Davenport Welter H., VATC Hyland Sportswear H., 3d Cranbourne Cup, L, Qld Tatt's RC Recognition S., L, SAJC Lord Mayor's Mile H., L, VATC Selangor Turf Club Welter H., Independent Stallion H., 4th SAJC John D Lee S., L. Sire.

LIONS GATE (Danehill). 3 wins from 1450m to 2200m, A$160,760, Geelong Classic, L, MRC Corps of Commissionaires H., SAJC Gold Ace at Glenrae Stud P., 2d SAJC Port Adelaide Guineas, L, Hill-Smith S., L, 3d SAJC Distinctive Lifestyle H., VRC Paul Buttifant & Darryl Quilty H., MRC Brighton H., 4th South Australian Derby, Gr.1, SAJC Chairman's S., L.

Great Tradition. Unraced. Dam of-

Khutulun (Soldier's Tale). 7 wins from 1200m to 2000m, A$417,185, to 2016-17, MRC Routleys Bakery H., Carol Kelly H., Askin H., 2d MRC ALH Group H., MVRC 1print Vobis Gold Star P., TAB Spring Cup, VRC Wilson Medic Rising Stars Final H., 3d MRC Lord S., L, LU Simon Builders H., Arvanitis Philanthropy H., Thurgood Family P., MVRC Ranvet H.

Race Record:

Unraced.